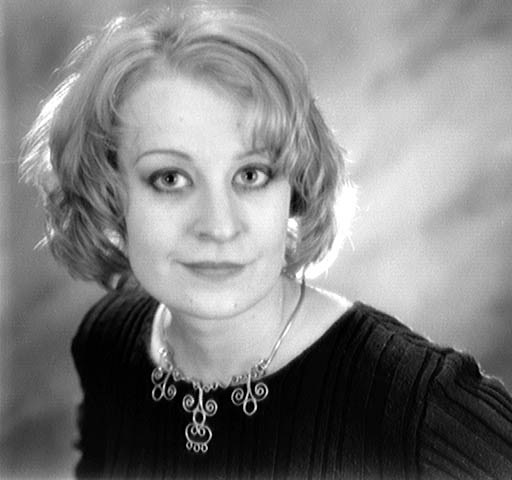 Brooke Ratliff is a multi-instrumentalist who wrote, performed and produced her debut album, "On the Wing", under the name of Motion Control.
Brooke was born in Pontiac, Michigan. After many years of private lesson she attended Baldwin Wallace Conservatory of Music in Berea, Ohio taking flute, guitar and piano lessons and practicing many hours. Brooke still plays flute, guitar and some keyboards, as well as sequencer programming.
After playing bass and rhythm guitar in various Ohio and Michigan bands boredom and a fascination with world music lead her to experiment with songwriting and singing. She started performing her own music with various musicians in the Detroit area in 1995. Since then, she has continued to work on new music while performing live in the Midwest to support the sales of her album. Through her diligent effort, "On the Wing" has sold through two pressings. Brooke's new CD, entitled "Dragon Lady", is now available through Amazon and CDUniverse.
Review and Quotes:
"From the twenty-somthing, musically gifted noggin of Brooke Ratliff comes an easy listening (I can't believe I said that) lyrical stew of breathy, alternative pop." - Ronald Clark, The South End
"I am especially impressed with Brooke Ratliff's Motion Control. This album has a very unique atmosphere and is undoubtedly worthy of wide popularity." - Art Chachlowski, Art-Rock Radio
"On the Wing, the debut album by Brooke Ratliff, suggest the Midwest is a fertile breeding ground for female festival performers. The album is filled with dark alternapop ballads with a well-threaded worldbeat influence. Solid instrumental sounds back Ratliff's Loreena McKennitt-esque vocals." - Kristen Bartus, Metro Times
Good News:
The song "Machine" reached #4 at KKUP radio in Cupertino, California in January 1997
Brooke receives fan mail from around the world
The song "On the Wing" reached #12 in Italy in May 1998
Brooke has performed continually in the Midwest for the past five years
The new CD "Dragon Lady" is really, really good! Aren't you excited?
The last song on Brooke's CD, 'Nothing to Say', is part of a movie soundtrack. The Movie: 'Hatred of a Minute' will be released on video by Anchor Bay in April 2001
Music Media Network of Toronto is promoting a single for Brooke in Michigan, Illinois, Penn, and New York. The single is 'Techno Phase'.
The CD, "Dragon Lady" will finally be released in retail stores, by Redeye, a national distributor.
News - Upcoming show dates and stuff.
Where can I find Brooke's albums?
Back